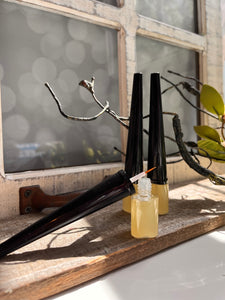 Lash Oil, a gentle and soothing formula that cares for your lashes in a nourishing way. Enriched with the goodness of olive oil and emu oil, this lash oil is designed to provide a pampering experience. 
Olive oil, known for its natural conditioning properties, helps to soften and hydrate your lashes, promoting a lush and healthy appearance. Emu oil, on the other hand, is packed with essential fatty acids that contribute to maintaining lash flexibility and strength.
Ingredients:
- Olive Oil: Rich in vitamins and antioxidants, olive oil works to condition and nourish your lashes for a softer, more vibrant look.
- Emu Oil: Filled with essential fatty acids, emu oil supports lash health by providing the nutrients needed to maintain their natural strength and resilience.
Experience the benefits of these wonderful ingredients as you indulge in the gentle care of our Rump Scrubbers Lash Oil. Treat your lashes to the nourishment they deserve and embrace their natural beauty with this soothing formula.