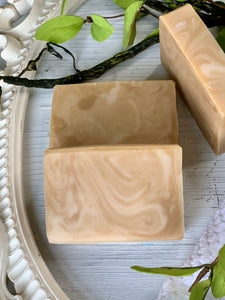 Southern Gentleman a man who is Confident, Trustworthy, and Successful.
He's a man who opens doors, offers his coat, loves the outdoor life and his momma. 
He's someone who has the utmost respect for women and often refers to them as ma'am. 

Scented with Japanese grapefruit, bergamot, and lemon; followed by middle notes of peppercorn, ginger, jasmine, aquatic notes, and a hint of peppermint; sitting on notes of natural patchouli, cedar, vetiver, labdanum, and frankincense.
Ingredients: Saponified Oils, Olive Oil, Coconut Oil, Lard, Shea Butter, Castor Oil, Distilled Water, Lye, Fragrance Oil, Kaolin Clay, Goat Milk Powder, Pine Tar, Tussah Silk, Sea Salt, Sodium Lactate
Care for your soap bar and extend its life by using a draining soap dish or soap pouch. There are some in the shop if you would like to add this accessory to your cart.  
Cut at approximately 4.5 ounces, all bars are hand cut and weight may vary from bar to bar. 
Soap Sample 1 to 2 ounces
Rump Scrubbers is not responsible for any adverse or allergic reactions. Please be sure to review ingredients closely.