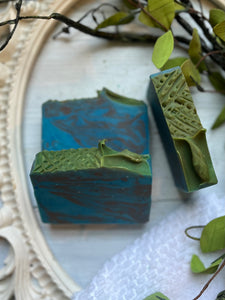 Mountain Man a tribute to the true essence of masculinity, where the rugged meets the refined. Crafted with the utmost care and infused with a complex blend of invigorating scents, this soap promises an unforgettable bathing experience.
Enjoy our custom blend with notes of Japanese grapefruit, bergamot, and lemon, peppercorn, ginger, jasmine, aquatic marine notes, peppermint, patchouli, cedar, vetiver, labdanum, frankincense, clove, saffron, orange, lavender, cade, violet, eucalyptus, smoked tonka, glowing embers, guaiacwood, and vanilla.  

Care for your soap bar and extend its life by using a draining soap dish or soap pouch. There are some in the shop if you would like to add this accessory to your cart.  
Cut at approximately 4.5 ounces, all bars are hand cut and weight may vary from bar to bar
Rump Scrubbers is not responsible for any adverse or allergic reactions. Please be sure to review ingredients closely.