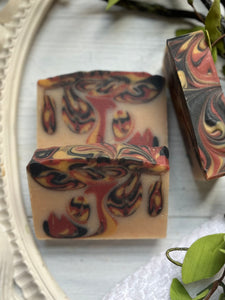 This warm tantalizing fragrance blend of amber and woods consists of patchouli, rose, jasmine, and floral embedded. It is topped with nuances of citrus and softened with a vanilla and powder base.                                                                             
This is a truly unique and quality aroma.  
Dracaena Cinnabari, the Socotra Dragon tree or dragon blood tree, is a dragon tree native to the Socotra archipelago, part of Yemen, located in the Arabian Sea. It is so called due to the red sap that the trees produce.
Ingredients: Saponified Oils, Olive Oil, Coconut Oil, Lard, Shea Butter, Castor Oil, Distilled Water, Lye, Fragrance Oil, Activated Charcoal, Kaolin Clay, Goat Milk Powder, Tussah Silk, Sea Salt, Mica, Sodium Lactate
Care for your soap bar and extend its life by using a draining soap dish.
Cut at approximately 4.5 ounces, all bars are hand cut and weight may vary from bar to bar.
Soap Sample 1 to 2 ounces
Rump Scrubbers is not responsible for any adverse or allergic reactions. Please be sure to review ingredients closely.